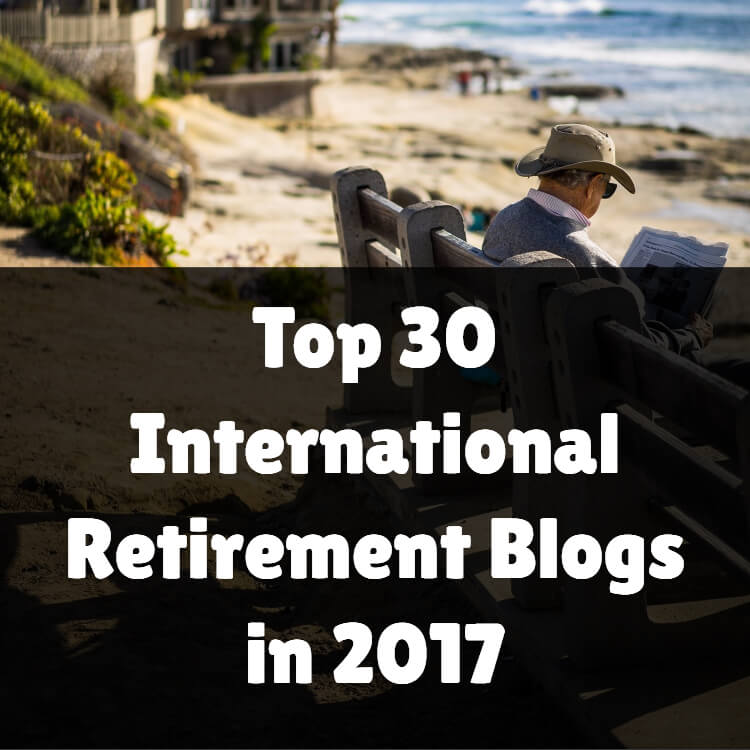 Have you ever dreamed of retiring abroad? Sure you have! Have you already started planning your great escape overseas?
We listed our favorite blogs about international retirement. These sites will inspire you to take action on your dreams and turn them into concrete plans. No matter your age or where you are right now in your life. We also featured some blogs about early retirement and retirement planning.
American retired in Ecuador
Dano writes about his transition from an American lifestyle to retirement in Ecuador. He recaps some of his day-to-day experiences to highlight what it's like to live in Cuenca, Ecuador.  
---
American retired in Italy
Susan, from California, blogs her observations about life in a small town in Umbria, Italy. Her blog features a plenty of photos of beautiful scenery and mouth-watering foods.
---

Expat retiree living in Nicaragua
Debbie, a former teacher, writes about her life and adventures as a retiree in Nicaragua. In her own words, "Life is a beach on Ometepe Island."    
---
American retired in the Philippines
Barry has come to stay in his new beautiful home country. Retirement abroad has changed Barry's life in more ways than he had anticipated, in a positive way. Read it all on his blog.
---
Expat retirees living in Panama
Donna & Tom have put together a beautiful website about expat life in Panama. They blog about their own experiences and offer valuable information as well. And if you happen to a green-thumb, this is your site!  
---
U.S. retiree in Malaysia
Steve has returned to the U.S, but his blog is still an excellent source of information and inspiration.
---
Expat retirees living in Ecuador
Nancy and Chuck went to visit Ecuador, fell in love with it and decided to move there. Read all about their adventures moving and living in Ecuador.  
---
Expat retirees living and loving Thailand
Malcolm and his wife, CieJay, retired in Thailand and "they're loving it!" Read about their travels and their beautiful home village of Wang Pho.
---
Vast resource on retirement topics
"Retirement can and should be a rewarding time of life." That is true, and the slogan of the creators of this valuable retirement site. The site offers hundreds of pages of great retirement topics and tools.
---
Early retirees traveling the world
Billy and Akaisha retired in 1991 at the age of 38 and began traveling. Since then, they have become recognized retirement experts and authors around the world.
---
Retirees traveling the world together
In their sixties, Alison and her husband Don sold or gave away everything, and set off to discover the world. On their own but always together.  
---
U.S. retiree in Panama
Kris started blogging about life in Panama to keep family and friends updated. Since the humble beginning, the blog has grown to be a source of information about expat life in Panama.
---
Recognized retirement authority living in Costa Rica
Christopher has lived in one of the most magical places on earth for more than 35 years. His love for Costa Rica is so great that he became a citizen. Two Costa Rican Presidents have recognized Christopher as an authority on retirement topics.  
---
Early retirees traveling the world on four wheels
Amanda and Travis quit their jobs in their early thirties and began their adventure. They bought a used Toyota 4Runner and named "him" Bruno. Then they hit the road to camp and travel their way through Central America and beyond!
---
Early retiree helping others retire early
Through careful saving and planning, Justin managed to retire at age 33. Read how he did it and what it takes to reach financial independence and early retirement.  
---
Early retirees traveling the world as a family
Meet Jeremy, Winnie & Julian, a nomadic family who retired in their 30s to travel the world. Read about their adventures in making permanent travel the ideal lifestyle.
---
Financial advice site with quality content on retirement
When you are planning your great escape overseas, this site packs a lot of information. The site covers topics about finances, retirement and moving/living abroad.  
---
Early retiree luxury travel experts
David and his wife have become preeminent experts in luxury boomer travels. Read about their travels, take part in their small group travel events, or allow them to help you plan your dream vacation.
---
Honest view into retired woman's life
Barbara believes that "blogging is all about a life lived in the open, just in a discrete way." She writes about retirement out there and gives you an honest view of how a retired woman lives.  
---
Former expat, now retired, writing about international life
Donna writes about her adventures, discoveries, and reflections as a retiree. She has a unique way of including statistics and facts in her posts. Donna is also very open to interact and connect with her readers.
---
International best-selling retirement authority
Ernie is an international best-selling author of several books including three retirement-related books. His blog offers up-to-date information on retirement topics.  
---
Expat retiree living in Thailand
Hugh blogs about retiring and living in Thailand. His blog has become a sizeable source of quality information about life in Thailand.
---
Australian early retiree who loves to share her travels
Debbie is an early retiree full of energy and enthusiasm. Traveling is in her blood, and she loves to blog about it! Her blog has a page dedicated entirely to her adventures and travels.
---
Retiree living in Glasgow, traveling the world
Anabel enjoys her golden years by traveling with her husband. Together they make a great travel team! In her blog, Anabel writes about their adventures at home and abroad.
---
Retiree living in rural France, expert in solo travel
Leyla quit her daily grind and took off to see the world. Six months turned into more than three years around the world! Her website is a valuable resource for both women who love to travel and anyone traveling solo.
---
Recognized authority on living a traveling lifestyle
Jonathan sold everything and took early retirement to began traveling the world. His mission is to show other baby boomers that it is worth going out to see the world for themselves!
---
Nomadic retirees traveling the world together
Lynne lives "home free" with her husband. They are nomadic retirees who travel with only two suitcases and know how to make a home almost anywhere.
---
American retiree documenting his travels through the lens of a camera
Joe hosts a photo blog about his travels around the world. Quick and easy reads, focused around his beautiful photography. Joe has readers in more than 150 countries.
---
American retiree living in the Philippines
UJ has built an impressive source of information about living as an expat in the Philippines. He also blogs about his own life and experiences in his retirement paradise.
---
American retirees living in Ecuador
John and Mary wanted to live in a warm climate near the beach on a reasonable budget. Ecuador was the answer to their wishes!