Rustic Turrialba Mountain Home For Sale By Owner On 4 Acres Of Land Only $88,500
This rustic, artisan timber frame cabana is situated in the hills above Turrialba on 4 acres of land that have been allowed to regenerate native vegetation and recreate habitat – especially for birds.
Perfect for the person or couple seeking the joys of a simple life in a rural Costa Rican community.
Built in 2010, the timber frame was designed by Steve Chappell, author of A Timber Framer's Workshop, who supervised the cutting and hand-crafting of the timbers.
The big windows bring in light and, together with the tall ceiling, make the house feel much larger than its 8 m x 4 m footprint, with an additional 3 m x 4 m loft.
The rich colors of the teak posts and laurel beams create a warm, intimate feeling and make this cabana a relaxing and cozy place.
Turrialba Mountain Home For Sale By Owner Only $88,500
Electric service, high-speed internet — WIMAX/ICE, water from springs.
Walking trails throughout the property.
1,000 7-year old pine trees & numerous large eucalyptus trees provide wildlife habitat and potential for timber harvest.
Fruit trees: Guanabana, tangerine (mandarina dulce), mandarina acida, guava, bananas, plantains, guineos.
Fresh air and great climate (clima fresca) at an altitude of 1,100 m (3,4000 ft): it's warm during the day (9am-3pm) and perfectly fresh and cool in late afternoon and in the evening.
A second stream (quebrada) forms the back border of the property. It runs through a ravine and has a 30-40 foot waterfall just upstream.
This mountain home for sale by owner also offers beautiful views of Turrialba, the Reventazon River Valley and the Talamanca Mountains.
A river runs through the property below the house. One of the walking trails on the property goes along the river and offers views of four waterfalls (cascadas). The land measures 19,793 m2 which is just over 4 acres.
The great boulders on the riverbank provide places for sketching, writing, meditation, picnics and other activities.
Sitting on a boulder by the river on a warm day, you are almost certain to see Blue Morpho butterflies wafting their way along the river channel.
I traveled around Costa Rica for three months to find "my place" here. When I walked around on this land, its rivers, views and tranquility were just what I was looking for.
My five years here have been a wonderful experience, a time of spiritual retreat and blissful solitude with nature.
Getting To Turrialba.
20-25 minutes to the center of Turrialba by car or taxi or, walk to main road and take a bus.
45 minutes by car or bus to the city of Cartago
1 hour to San Jose by car, 90 minutes by bus
Approximately 80 minutes to the San José International Airport
30 minutes to CATIE – (Center for Research and Teaching in Tropical Agriculture).
30 minutes to UCR – University of Costa Rica (Atlantic campus.)
Please Contact The Owner For More Information!
I will miss the beauty of the house, the joy of being in it, the way the wood glows and feels alive; I will miss my daily walks on the trails, my time at the river and waking up to the birds singing.
Now it is time to "pass the baton" to the next stewards who will appreciate the gifts of this beautiful retreat and bring their vision and energy to create its next chapter.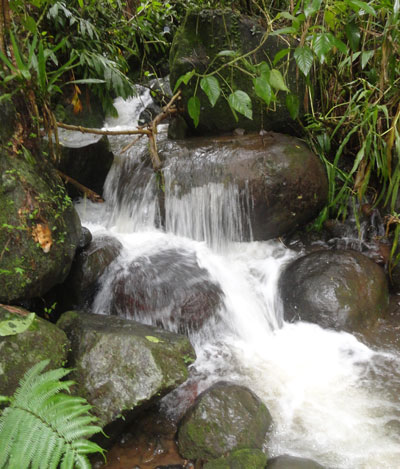 We'll walk the trails and if we're lucky, we'll see one of my neighbors – the Blue-crowned Motmot – which has recently taken up residence.
We would always recommend that you have have your own attorney confirm that all is in order before you make a final offer for any land or home.
Are you into beautiful Costa Rica?
All interesting things you want to know about Costa Rica are right here in our newsletter! Enter your email and press "subscribe" button.