Rio Celeste: Costa Rica's Turquoise Oasis
Within Costa Rica are many hidden gems. A prime example is Rio Celeste, one of the most magical and beautiful places that you will ever have the opportunity to experience, not only in Latin America but in the entire world. Located deep within the Tenorio Volcano National Park, you will see stunning turquoise water unlike any other of the country's beautiful blue and emerald lakes and mountain streams.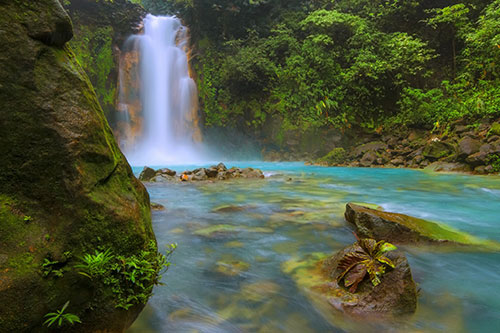 If you enjoy trips that focus on nature, you can discover an abundance of opportunities in Costa Rica by conducting a Google search using the keywords "beautiful nature in Costa Rica". However, Rio Celeste is unique with its breathtaking turquoise-colored water. It is so surreal that people feel their eyes are playing a trick on them, which in some respects, they are.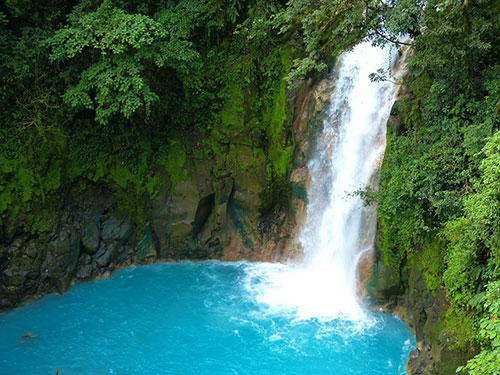 Rio Celeste is a remote area that sits along the Guanacaste/Alajuela border where tourists seldom visit. A trip to this site provides you with an incredible opportunity to witness a cascading waterfall with a gorgeous turquoise pool below. While there are wider and taller waterfalls in Latin America, none compare to Rio Celeste.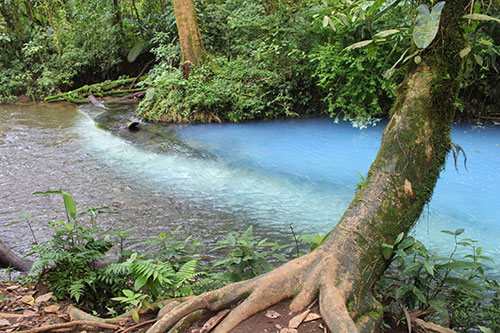 Getting to Rio Celeste
To reach Rio Celeste, you will climb a tall staircase. From there, you will join a trail that meanders along the river. After going some distance, you end up trekking through a lush, green jungle, following alongside sandy riverbeds, going over narrow and rickety bridges, and then hiking past beautiful pools of water. Every step is an adventure until you reach Rio Celeste, when you will experience a true phenomenon.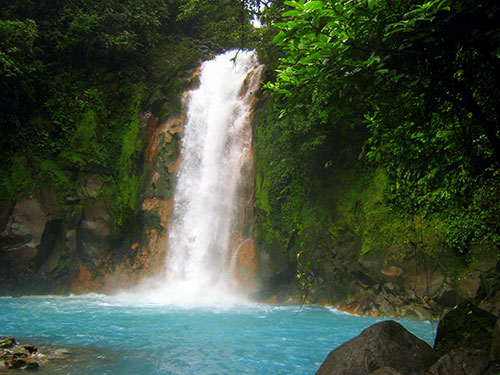 The Phenomenon of Rio Celeste
What makes Rio Celeste so incredible is that two completely transparent streams of water, Rio Buena Vista and Quebrada Agria, merge to instantly transform into the most vibrant turquoise imaginable. For years, scientific researchers were baffled. Even after extensive studies, experts were unable to unravel the mystery of how this phenomenon occurred. Initially, scientists believed the water changed color due to a chemical reaction from the volcanic soil because of a distinct odor of sulfur along the river and at the waterfall itself.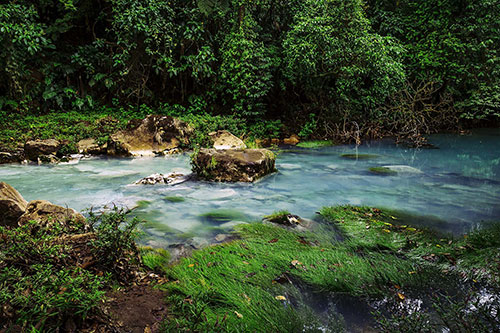 Today, scientists have a different explanation. Rather than a chemical reaction, they discovered that a reflection of suspended particles is what causes the two clear streams to turn into a turquoise oasis. In other words, the turquoise water is more of an optical illusion.
As part of recent studies, scientists dipped test tubes into the Rio Celeste waters. The water was bright turquoise before the tubes were extracted, but afterward, the water was clear. Sunlight contains every color spectrum. Therefore, the turquoise water is actually a perception of the human eye that occurs as sunlight scatters on the water, similar to how you see a rainbow.
In looking at other water sources in Costa Rica, sunlight only penetrates to a certain depth. For that reason, no particular color deflects or reflects to the surface, making the water transparent. However, Rio Celeste is different. With other water sources, there are suspended particles of a certain size. On their own, there is nothing remarkable about the reflection of these particles. In the case of Rio Celeste, particles from both merging streams combine. As they intertwine, the particles create a perfect reflection surface that, to the human eye, looks like vibrant turquoise.
Even after learning that there is a scientific reason for Rio Celeste to appear turquoise, people who have visited still consider it magical. This phenomenon's sheer beauty and visual impact go well beyond explanation. The enchantment of Rio Celeste has people questioning if perhaps Costa Rica has other hidden phenomena. For the trip of a lifetime, there is no better place than Rio Celeste.
Are you into beautiful Costa Rica?
All interesting things you want to know about Costa Rica are right here in our newsletter! Enter your email and press "subscribe" button.