Rice And Beans In Costa Rica.
Come to Jaco and you can expect to encounter a diverse culinary palette of flavors from all over the world. From sushi, pizza, burgers, hummus, falafel and Chinese to Mexican style Al Pastor tacos and burritos, Jaco's main street, Avenida Pastor Diaz, provides visitors and locals with something to satiate just about any type of craving. It would be a tragic mistake, however, to come to Jaco and not take advantage of the opportunity to embrace the heart and the soul of Central American and Costa Rican cooking, in beans and rice.
Open the menu at any traditional Costa Rican restaurant and good luck finding a dish that does not arrive with either rice, beans, or a mixture of both. After spending time in Costa Rica, friends and family may ask whether it gets boring eating beans and rice all the time. Yet, to call Costa Rican food boring or tasteless would only reflect the speaker's failure to have properly explored the variations of form and flavor which Ticos have perfected in their beans and rice over the years.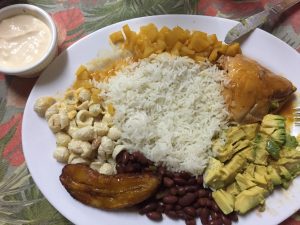 Casado (Arroz y Frijoles)
Starting with the most basic pairing of the two ingredients, the Costa Rican Casado plate is a typical dish which always features beans and rice separate from one another, along with some sort of protein and a variety of other sides. These sides include but are not limited to salad, pasta, potatoes, beets, picadillo (a mix of pickled veggies), and fried plantains, which help make the Casado plate a well-balanced, nutritious, flavorful and often relatively inexpensive meal. Most restaurants in Jaco serve their own unique Casado, including popular Sodas (Typical Costa Rican food joints) like Rustico, Isaga, Marea Alta and Pura Vida 3.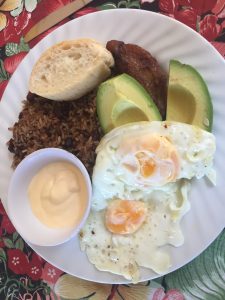 Gallo Pinto
The Central American breakfast of champions and most commonly consumed dish in Costa Rica is a mixed variation of beans and rice called Gallo Pinto. In this case, as in most cases, Grandma's recipe naturally tastes better than the Gallo Pinto one might order in a restaurant because traditional Gallo Pinto is made when the leftover rice and leftover beans from last night's dinner are reheated in the same pot for breakfast, having had time to grow richer in flavor, and enhanced with other ingredients like cilantro, chopped onion, bell pepper, and Costa Rica's legendary Lizano Sauce. Often accompanied by eggs, tortillas and fried plantains, Gallo Pinto is a substantial breakfast that helps one sustain energy and hunger cravings well into the afternoon.
Gallo Pinto translated in English means Painted Rooster, and each Tico you ask will give you a different explanation of how the name came to be. One fairly common explanation is that the name is derived from the colors the dish takes on as the rice becomes speckled by the black beans, with additional flecks of red, green and yellow depending on the types of peppers and onions being used. However, I was told by a group of old farmers that that explanation is a watered down cover up which attempts to hide the deep Costa Rican tradition of cockfighting.
The farmers explained that as popular as cockfighting is in Costa Rica, it has always been illegal, so the fights are generally held around sunrise to avoid attracting the attention of police. Fanatics and rooster trainers were always hungry around sunrise, so they often brought their dinner leftovers mixed in the same container to eat in between fights. They said that the colorful painted roosters were usually the top bet getters because they were not only more visually impressive but notoriously vicious in the ring. The farmers told me that the decision to name their typical breakfast after the most beloved of roosters was nothing short of a statement of national pride.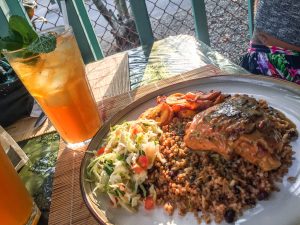 Rice and Beans (Caribbean Style)
Perhaps the most flavorful variation of beans and rice comes from the Caribbean side of Costa Rica, where the natives speak mixed Spanish and Patois, an English based language that is also sometimes called Jamaican creole. Instead of saying arroz y frijoles, even full Spanish speakers call their famous dish Rice and Beans, which sounds more like "Rise and Bins" with the Caribbean accent. In this dish, like Gallo Pinto, the rice and the beans are served mixed together, but in this case with the addition of sweet and sometimes spicy Caribbean flavors. While Gallo Pinto is not the least bit sweet, the key ingredient to Rice and Beans, coconut milk, makes this dish a real treat for the tastebuds. Even on the Pacific side of Costa Rica, locals will tell you that the best coconuts come from the Caribbean, and that the most common mistake people make with mediocre Rice and Beans is using canned coconut products instead of fresh hand pressed coconut milk. Not all Rice and Beans are spicy, but many chefs from the Caribbean like to include the delicious yet dangerous Panamanian Chili pepper, in the dish itself or a sauce on the side. Fortunately for those in Jaco, there exists a little known Caribbean style restaurant called PatyRico with just two tables on the outskirts of town where one can try a true version Rice and Beans, with or without the spicy sauce. For those who enjoy hole-in-the-wall dining and uncovering local secrets, PatyRico's Rice and Beans is Jaco's hidden treasure.
As they say in France, Bon Appetit! Or, better yet in Spanish, Buen Provecho.
Are you into beautiful Costa Rica?
All interesting things you want to know about Costa Rica are right here in our newsletter! Enter your email and press "subscribe" button.