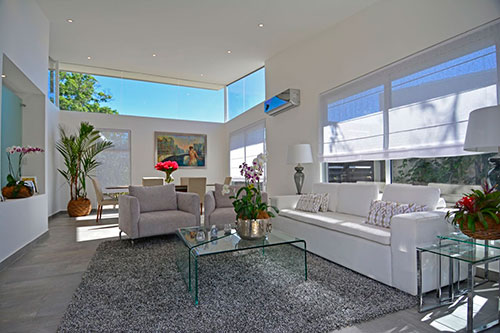 If you have any questions about property in Costa Rica, click here to contact our partner agent.click here to contact the listing agent.
New Single Storey Home For Sale in NaturaPark in Brasil de Santa Ana.
Property Location: Brasil de Santa Ana, Costa Rica. 2 minutes from the highway that goes to San José or to the Central Pacific Coast.
Home Size: 265m2
Rooms: 3 bedrooms, 3/5 bathrooms, TV/Family Room, plus Maid's Room/Office and covered parking for 3 cars.
Lot Size: 420m2
Amenities: The Condominium has a beautiful swimming pool, a Jacuzzi, ranch area and a gymnasium.
This is the most spacious stand-alone home on the largest lot in the NaturaPark Condominium Community.
Here Are The $25,000 Extras That You Will Not Find In Any Other New Home At This Price.
"With $25,000 worth of extras you would have to find a new home priced at $370,000 to compete with our price! At $1,490m2 ($395,000/265m2) you will not find a quality new, single storey home anywhere in this area at this price." Scott Oliver. Owner of this home and author of 'How To Buy Costa Rica Real Estate Without Losing Your Camisa.'
Extra strength sliding doors in the living room.
Expanded kitchen for better entertaining and additional storage space.
2,500 litre water tank for emergencies.
2,400BTU A/C in the living room.
Central A/C in the three bedrooms and the TV/family room
Curtains or blinds in all rooms
A beautiful lush, green, low maintenance living wall which you can enjoy from the living room.
Parking for three cars.
The Ten Reasons Why You Will LOVE This New Home!
Watching a family of three Boat Billed Flycatchers (Megarynchus pitangua) sleeping in the branches of our lemon tree outside our living room.
The cool breeze that blows from the east during the December and the first few months of the year that thankfully knocks down the oranges from the tree in the back garden.
The two big old and beautiful higueron trees in our garden that attract dozens of different birds and air plants.
Lying on my back on the couch of our outside terrace and watching parrots, pairs of woodpeckers, bananaquits, blue grey Tanagers, doves, and many other birds feeding on insects and the fruit of the tree.
Being able to see mature trees out of practically every window in our home.
For more information please call the owner Mayra on (506) 6050-0058 Or send an email to: mayraclaveria@gmail.com
The fantastic organic market that takes place every Tuesday in nearby Ciudad Colon where we buy the best breads, organic fruits and vegetables, mushrooms, jams, honey, coconut oil products, ginger and fresh turmeric, kefir and the most delicious home-made cheeses.
In Brasil de Santa Ana we love being close to Ciudad Colon, Santa Ana and also the capital city San José but it's just far enough away from the 'hustle and bustle' to enjoy the peace and quiet of our home.We can be on the new highway to the beach in under 3 minutes and on the beach in Jaco in under 80 minutes. We're also close to the San José International Airport. The quickest route to the airport for us is to take the Coyol road and we're at the airport in under 20 minutes.
Our new 'living wall' on the terrace outside the living room and kitchen is developing nicely and the fountain is also attracting the attention of different birds.
With a quick 50m walk to the bottom of our condominium project and I'm swimming in our beautiful pool enjoying the sunshine and getting some much needed exercize. We also have a small but well equipped gym.
If we walk 200m, we can visit our local ProxiMart supermarket or be enjoying a great thin crust pizza in a terrific little Italian restaurant or having a pint of beer in the 'brew pub' next door the that…
Lastly, we love living in this light-filled, single storey home and although they are hard to find at a decent price in our high-demand area, we have a great relationship with this established developer and also own another single storey home in this developer's next project.