Living in Costa Rica. Here are 10 interesting facts you may not know about Manuel Antonio National Park.
Everybody who knows anything about Costa Rica knows about Manuel Antonio National Park.
Yes it is the smallest of Costa Rica's national parks.
Yes it is the most popular and most visited.
But apart from those two things, here are 10 Manuel Antonio National Park facts you probably didn't know…
The Birth of the Park. The Manuel Antonio National Park was born from communal pressure against former foreign owners who sought to exert their private property rights to prevent access to its beaches by local inhabitants. The former owners had a keen interest in developing the area as a tourist center. But thanks to the pressure of the community, the park was born in 1972 as the "National Recreation Park Playas de Manuel Antonio", by means of Law No. 5100.
Mangroves. In addition to the lush jungles teaming with wildlife there's also a mangrove estuary in the park. The estuary consists of both fresh and salt water and covers approximately 18 hectares. It can be observed along the parallel paths to the beaches named Manuel Antonio and South Espadilla. Here you will find the red mangrove, piñuela and caballero species of mangrove.
Park Beaches. Inside the park there are three main beaches: Playa Gemelas; Playa Manuel Antonio, and Playa Espadilla Sur…
Playa Gemelas. This beach is divided by a rocky formation that gives birth to its name, which means "twins."
Playa Manuel Antonio. This beach is famous for its scenic beauty. Known for being one of the best beaches in Costa Rica, it is one place within the park that can be desirable for snorkelling under the right conditions.
Playa Espadilla Sur. This is the park's widest beach at low tide. This beach can be bombarded with powerful waves. For this reason it's often less crowded than Manuel Antonio beach.
Punta Catedral. This is the highest point within the park at 236 feet. The site was formerly an island, which due to the accumulation of sediments joined with the coast through a sandy belt called the "Tómbolo". Along the path to the point you will find three scenic viewpoints.
The Park Extends into the Sea In addition to the 1,700 acres of the park's land area, there are an additional 136,000 acres of marine park area as well.
Flora and Fauna. The park has a wealth of flora and fauna. Approximately 352 species of birds have been recorded, 109 species of mammals, varied marine fauna and 346 species of plants. Among the most outstanding species of fauna you can see are the monkey titi (squirrel monkey), the white face monkey, howler monkey (congo), 2 and 3 finger sloths, raccoons, pizotes, and many bird species like the toucan and others.
Mirador Puerto Escondido. This viewpoint lets you appreciate one of the most beautiful coastal seascapes of the Park.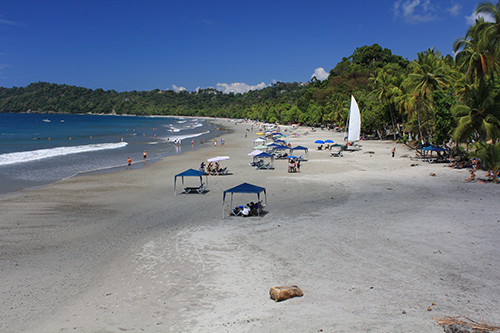 When to Go. Manuel Antonio National Park is open Tuesday through Sunday from 7:30 am to 4 pm. It is never open on Monday (remember that). Regulations have been in effect to limit the amount of visitors to 600 on weekdays and 800 on weekends and holidays. To avoid large crowds, early morning from May to November may be the best time to experience the park. Peak months are from December to April. Petty theft is common around the park so be sure not to leave your possessions unguarded.
Trails. The park has a network of very well-maintained trails. You can go for the beaches, the trails, or both. I've always recommended "doing the park" on your own as opposed to a group tour. The reason being is that once you get your ticket stamped, you can leave and come back. One strategy is to go early in the morning and walk the trails (with the help of a guide if you choose – see below), leave for lunch in the nearby "public beach" area, and then come back after lunch to just relax on the beach.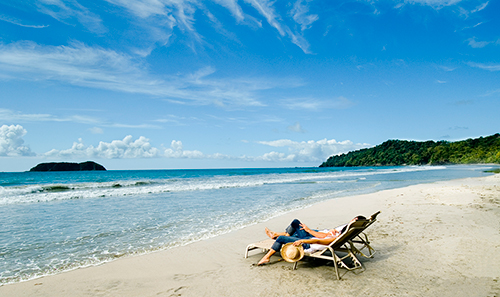 Hiring a Naturalist Guide. These very well-trained and bilingual guides can be hired at the park entrance. Doing it this way you can have a private tour just for you and your family. The cost to hire a guide is around $15 to $20 per person, depending on the size of your group, for a three hour walk-through. They will have high powered binoculars and you will see things with them that you'd never see on your own.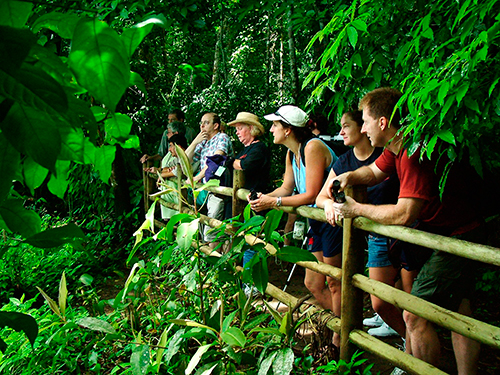 I hope these 10 not so well-known Manuel Antonio National Park facts help to make your experience of this amazing place more enjoyable.
Living in Costa Rica. Here are 10 interesting facts you may not know about Manuel Antonio National Park.
Article/Property ID Number 9102
[custom_script adID=191]
Are you into beautiful Costa Rica?
All interesting things you want to know about Costa Rica are right here in our newsletter! Enter your email and press "subscribe" button.