It's a Love Shack, BABY!!
Life is great in Costa Rica. I don't need to tell you why. But I would like to suggest a way to make it better still.
Doing for others is one of the most certain ways to increase our happiness. And there's a lot of need and opportunity to help here in CR. People, kids, the environment, sea turtles, and stray dogs and cats.
One of the volunteer opportunities happening in the Uvita area might suggest what you could do in your own CR hometown.
Recent developments have made this an exciting time for the Coasta Ballena animal rescue community. A new rescue center has opened in the Zona Sur and an old center, DAWG, has learned some new tricks. There are plenty of zaguates, so the two shelters will be kept very busy.
Updating its facilities and its brand, DAWG has improved its housing area and greatly remodeled its adoption center.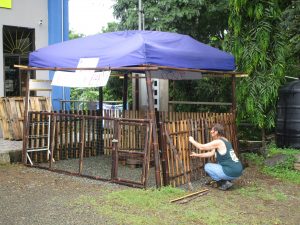 Once a simple canopy with a portable fence to contain the adoptees, the center has become the "Love Shack".
This goes right along with DAWG's new slogan, DAWGisLOVE. And it creates a more fun place for viewing the homeless.
That old canopy is now a delightful play on that hit wedding party song, "The Love Shack". With an elaborate bamboo exterior and a more comfortable interior resting place for the animals, the strays are also kept cooler in this new resting area.
Bamboo planters decorate the exterior and small tree trunk stools provide seating for children playing with the puppies.
All material and labor was donated by DAWGisLove long time caregiver extraordinaire, Jackie.
The mother of the "Bamboo Family", Jackie is an expert in types and uses of bamboo. The "Family" lives on a large bamboo farm. And they can be contacted at thebamboofamily@yahoo.com
The updated, more festive adoption center and free popcorn make it a place to visit on your Saturdays in Uvita. Dr. Fernando, owner of the Centro Veterinario, has generously allowed DAWisLOVE to use part of his building and parking lot.
The best part, of course, is lovable puppies, kitties, and fabulous "used dogs" to give and get love from.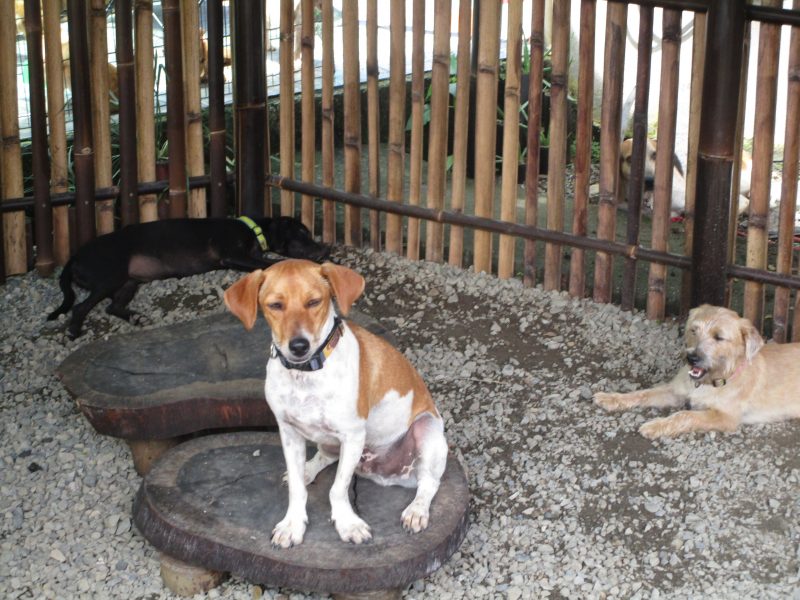 Starting to see the possibilities for giving in your community?
All animal shelters needs people with MANY skills: animal care, marketing, soliciting donations, maintenance and updating the facilities, organizing fund raising events, performing at those events, and practically anything else you can imagine to help the animals.
I'll bet your local animal shelter needs YOU!
Here we say DAWGisLOVE!! And the Love Shack "Is a little ol' place where you can get together, BABY!!" Think about getting together with your local shelter.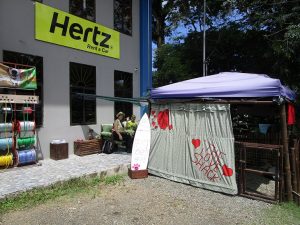 Are you into beautiful Costa Rica?
All interesting things you want to know about Costa Rica are right here in our newsletter! Enter your email and press "subscribe" button.