Everything You Need To Know About Tamarindo Costa Rica Real Estate
Tamarindo, Costa Rica real estate is one of the most vibrant real estate markets in Central America with a wide variety of options for the potential buyer to consider.
For many people considering a move to Costa Rica, one of the most popular and sought after places within the country is a town called Tamarindo in the province of Guanacaste on the northwest Pacific coast. Tamarindo has grown rapidly over the past 20 years or so from a tiny fishing community, hard to reach by road, into a tourism and surfing mecca that attracts visitors and expats from all over the world.


For the potential expat thinking about moving to Costa Rica, to Tamarindo in particular, a better question might well be why not Tamarindo? For those searching for a little background, Tamarindo is a rapidly growing town on the Pacific coast of Costa Rica, at the top of the Nicoya Peninsula. If you're looking for Tamarindo on a map, you'll find in in the top left-hand corner and down a bit. Since the opening of the international airport in Liberia – less an hour away – Tamarindo and its surrounds has never been easier to access.

With world-class surfing, beaches, restaurants and shopping, Tamarindo is one of the most popular places for foreigners looking for homes inside Costa Rica.

Like most beach communities in Costa Rica, Tamarindo used to suffer from bad infrastructure, but new roads in and out of town as well as a construction boom of homes, condos and shopping centers has made the town almost as cosmopolitan as the capital city of San Jose.

[custom_script adID=149]

The best way to describe Tamarindo in general would be vibrant. It's the expat and retiree population that give the area this vibrancy. Many beach towns in Costa Rica become deserted over the rainy season, but Tamarindo stays buzzing all year round, a perfect tropical paradise with all the comforts that you're used to.

The town of Tamarindo lies on a large bay made up of three different beaches – Langosta to the south, Tamarindo in the middle, and Playa Grande to the north. Each of these beaches represent communities in their own rights, with Tamarindo itself being the main one where most of the facilities lie. Facing westwards across the Pacific, residents of the area are greeted each night with some of the finest, most beautiful sunsets in the world.

[custom_script adID=155]

Tamarindo is in one of the driest parts of Costa Rica and doesn't see as much rain as the rest of the country does during the May-November wet season. The area can expect hot, sunny mornings on the whole with a couple of hours rain in the afternoons. The December-April dry season is predominantly hot, dry, and sunny all during that time, and it's a much drier heat – less humid – than other parts of Costa Rica. Temperatures are generally in the 80s and 90s (Fahrenheit) year around, rain or shine.

One important aspect about property in Tamarindo – and beach towns in Costa Rica as a whole – is the zoning laws. Costa Rica is very strict about protecting its beaches, its ambience and its environment. To that end, development is more limited than one might find elsewhere in the world. In Tamarindo you won't find true beachfront properties, for example, or any buildings adjacent to the beach that have more than three stories. Tamarindo is trying to avoid that look that you might find in Cancun or elsewhere. Development is a lot more low-key.

All beaches in Costa Rica are public property, so there are no private beaches and no beaches that can only be accessed through private property. This is something to keep in mind for some people looking for that exclusive, private beach. The zoning laws prohibit building anywhere closer than 50 meters from the high-tide mark on any beach in Costa Rica, so when something is advertised as "beachfront", it really means that it's 50 meters back from the beach. This helps to preserve the natural beauty of the beaches in the country and allows all people, local and tourist alike, to access them.

So with those important caveats in mind, what does the property market in Tamarindo look like?

Just like the town itself, the property market in Tamarindo is vibrant. Tamarindo and the surrounding coastline, known as the "Gold Coast", has been leading Costa Rica's real estate market for some time now – excluding the Central Valley where the capital city lies, of course, which is much more of a localized market. For foreign investors and retirees, of whom almost 70 percent of them are from the United States, it's Tamarindo that holds the attraction.

People are buying up homes and condos for the vacation rental market, primarily. Having a second home in Tamarindo that you can rent out to tourists is a great way to make an income off of your investment. Property management companies abound in the area and are happy to look after that side of things on your behalf.

Outside of that, for those seeking a more permanent move, the choice of where to live is wide. The most popular types are low-level condo blocks or gated community options that are mostly situated in the hills outside of Tamarindo proper, or on the roads in and out of town – between Tamarindo and Langosta or Tamarindo and Playa Grande, or on the main road to the communities of Flamingo and Brasilito. These options are favored by many people because they offer security, with 24/7 guards and walls.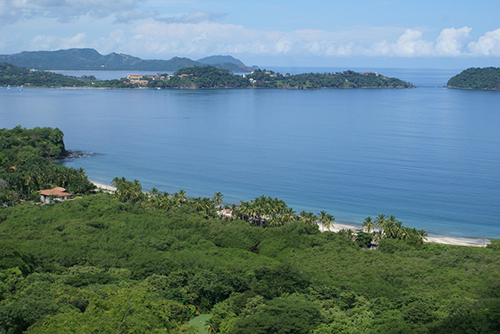 There are also many real luxury options in the Tamarindo area – mansions and multi-million dollar mega-homes that are scattered around – again mostly in the hills around the outside of town, offering killer views of the Pacific Ocean and that amazing sunset. Again, many of these homes will be in guarded estates or gated communities to give peace of mind regarding security, but some are stand-alone homes on their own land and property.
People often buy land as well, or lots as part of a future development, or to construct their own homes. Vast swathes of land in Guanacaste has been sold in recent years by the original owners, dividing it up into subdivisons and selling it to corporations and private buyers alike. It's all part of the development of the Gold Coast.
[custom_script adID=151]
As far as golf developments go, Tamarindo doesn't have any directly in town, but the Hacienda Pinilla – home to the luxury JW Marriott hotel – in Playa Avenellas, about 25 minutes south of town offers options for those who want to live within easy access to the links. Equally, about 30 minutes north of town, in Playa Conchal, there is the Reserva Conchal development of condos and private homes complete with beach club and 18-hole course for residents and vacation renters alike to enjoy.
Yacht and boating enthusiasts in Costa Rica don't really have a lot of choices, to be very honest. That marina culture simply does not really exist in Costa Rica. There is a large marina on the Central Pacific coast, but that's a long way away from Tamarindo. However, in Playa Flamingo, about 30 minutes north of Tamarindo, a new marina is under the process of construction and should be ready within the next couple of years or so.
No matter what type of home you're looking for or what your circumstances are, it's always recommended to rent before buying in Costa Rica, just to determine if you like the country or not. It's a wonderful place and offers a wonderful life, but it's not for everyone. Even the most responsible Tamarindo, Costa Rica real estate agents will recommend this if they are honest, and will be able to help you find a place to rent while you decide whether this beautiful country will work for you or not.
[custom_script adID=153]
Tamarindo Real Estate For Sale
You can see Tamarindo on the Pacific coast, half way down on the left hand side. However, keep in mind that property in or near the popular resort communities like Tamarindo and Flamingo are not as cheap as they used to be. Titled beachfront land, if you can find it, will be upwards of $750,000 per + acre or $370 per sq. meter. Ocean view lots, within 2 km of the beach, range from about $150,000
to $500,000 for an acre perched on a hillside with a platform cut for a building pad.
Increasingly, people are snapping up lots that are "near the beach" for example, within a + to + mile walking distance. In Potrero, adjacent to Flamingo small 500 sq. meter lots are going for about $100 per sq. meter while in nearby Brasilito at the new Catalina Cove development, you can purchase a 1.25 acre lot for about $150,000 or $30 sq. meter.Costa Rica – and Tamarindo – has so much to offer, but like any country, it has its pros and cons, and anyone considering a move to, or making an investment in it should have their eyes wide open and as much information at their fingertips as possible. It's a wonderful country, and if done right, living in Tamarindo can be the best thing that you have ever done.
[custom_script adID=97]
For More Information about real estate in Tamarindo:
[custom_script adID=186]
You can also read about the 'Costa Rica Realtors – The Most Recommended 100' here.
Are you into beautiful Costa Rica?
All interesting things you want to know about Costa Rica are right here in our newsletter! Enter your email and press "subscribe" button.