Entry/Exit Rules – While Awaiting Approval on your Residency Application
For any questions you have about Residency Application click here to contact Laura Gutierrez
For some ex-pats prone to wishful thinking or perhaps vulnerable to
barstool advice, ignorance and confusion abounds about requirements
when entering Costa Rica while awaiting approvals on residency applications.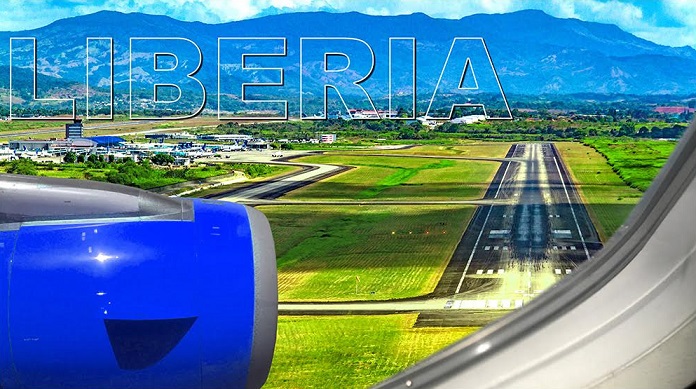 While applicants are awaiting approvals on their submitted applications for Costa Rica residency, they may have need to return to their country of origin or simply wish to take a pleasure trip elsewhere. Fine. No problem. But when they re-enter Costa Rica, they are shocked when asked to show the customs police an onward ticket OUTBOUND from Costa Rica. In Spanish they are referred to as "Boletos de Continuidad". (General Law on Immigration, # 8764 for Group One countries like U.S., Canada, UK.) Such tickets can include plane, bus or vessel outbound from Costa Rica.
Many are still under the impression this is no longer required once they submit that residency application.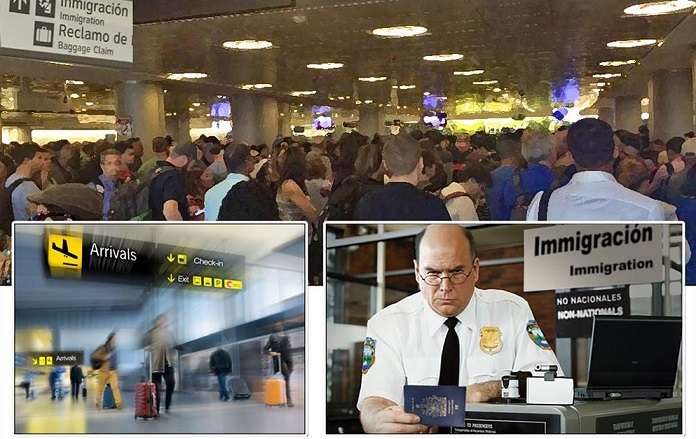 "Waddya mean… where's my outbound ticket???"
Sometimes the airport gatekeepers (police) cut you some slack… but don't count on it. Depending on the number of stamps they see on your passport, what shows up in the computer about you when they swipe your passport, and, or your hygiene, grooming and attitude, they might turn you back – or – allow your entrance on condition you purchase that return ticket before leaving the airport. That might mean waiting for some airline counter to open again and be forced to buy a very expensive ticket you may never need. Combative protests will only dig you a deeper hole. Don't bother. They're the ones carrying badges and guns. That's a strong indication as to who is going to get their way.
Having said all this, most airlines in the U.S., Canada and U.K. will not allow you a boarding pass if they see you attempting to go to Costa Rica without a return ticket, unless you prove you are a resident or citizen (show your cedula). They have warnings that come up on the screen when you check in. I was told by a Detroit based carrier last time through that the airline is subject to a USD $100,000 fine if they allow you to pass through without that return ticket. So it is very likely that most of you will have been given a heads-up prior to your arrival here. But just in case you got through without that outbound ticket, please be attentive to this crucial detail. Don't cheap out into a world of frustration and needless expense.
There is a more relaxed attitude about this at the Panama and Nicaraguan borders on border runs (more on that later) but San Jose and Liberia airports in Costa Rica are a different deal.
When I submit a residency application on behalf of any client, that application is assigned a file number (Expediente/Case File #). The applicant receives a printout of that Expediente.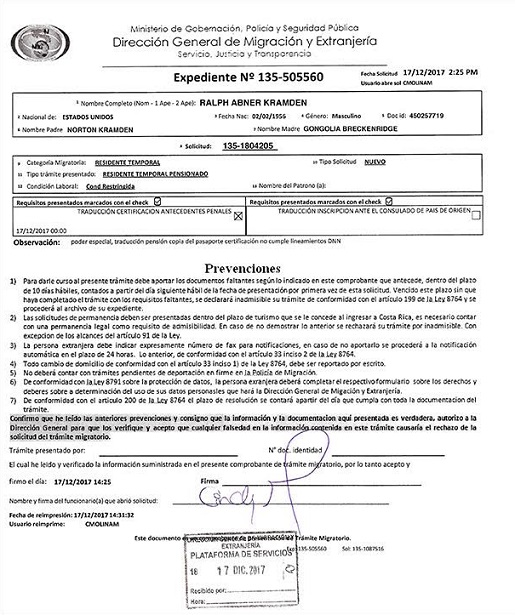 This official form provided by Immigration states that the holder has submitted a Costa Rica residency application to Immigration and is awaiting approval. They must always carry a copy of this Expediente with them along with their passport.
The Expediente proof of submission lifts the 90-day visa restriction that came with the last passport entry. In other words… no border run or return trip to former "home" country just to renew the passport visa stamp. Applicants are free to stay in Costa Rica as long as they wish while they await approval of their residency application. (My current YTD approval times are 5 – 11 months, depending on case complexity.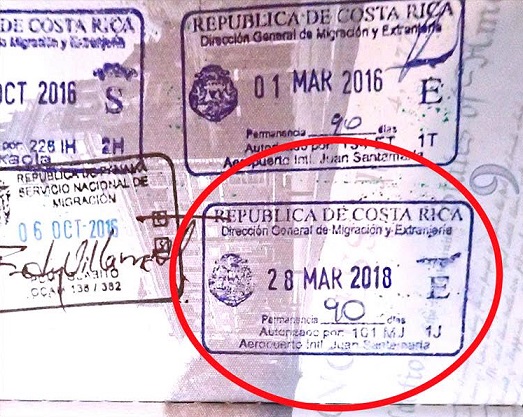 The 90 Visa stamp is no longer needed once your residency application has been submitted.
(Except for foreign drivers license)
Two crucial things to remember:
1) This benefit does not apply to foreign driver's licenses. They're still restricted to 90 days. See my next article for more details on drivers licenses.
2) If you do fly back home (while awaiting residency approval) to the U.S., Canada, E.U., or do a bus, car, boat,bike or plane tour of neighbouring countries, upon entry back into Costa Rica, by law, you must still show a return(outbound) ticket back to that country of origin or anywhere OUT of Costa Rica. For most of you, this will only apply to return flights to U.S., Canada or E.U. For those of you doing border runs to Nicaragua or Panama to maintain drivers license validity, (see following article), by law they have to ask you for return tickets out of those countries when you enter. They don't always do this but that does not mean it won't happen. They're supposed to. Don't roll the dice on this one. Really a bad day if you get stuck in this situation at the border. Most likely when entering Nicaragua or Panama and by chance they ask you for that onward ticket, the one from Costa Rica back to U.S., Canada or E.U. will likely appease them. But no guarantees.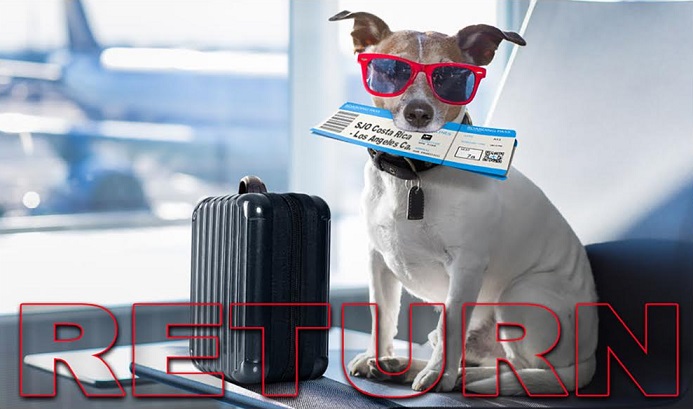 This return ticket regulation is lifted once your residency application has been approved and you have been issued your Costa Rican residency card (Cedula). Once you have that card, no return ticket is needed.

A further benefit of the residency card (Cedula) is that you get to come through the much shorter "Citizen's" line at
the airport when you re-enter Costa Rica. After a long flight, that becomes a big deal. Just show your passport and
that new Costa Rica residency card. Zoom, zoom.
by Laura B. Gutiérrez, Immigration/Residency Expert
Are you into beautiful Costa Rica?
All interesting things you want to know about Costa Rica are right here in our newsletter! Enter your email and press "subscribe" button.