Dry season brings spring blossoms to Costa Rica's landscape
Dry season brings spring blossoms to Costa Rica's landscape
If you have any questions about property in Costa Rica, click here to contact our partner agent.click here to contact the listing agent.
This time of year, while spring arrives in North America, Costa Rica revels in the full height of its "summer" dry season.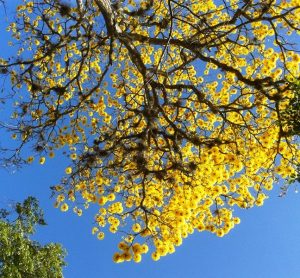 Much of the landscape has dried into browns and yellows, missing the green season rains. But March and April bring bright spring blossoms painting Costa Rica's vistas with vivid hues. These once-a-year bursts of color from Costa Rican trees rival any northern spring bloom and take your breath away with their beauty.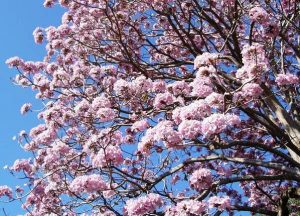 They are easy to spot. Many roadways, public parks, fields, and private gardens are decorated with these very popular trees – favorites in the hearts of Costa Ricans.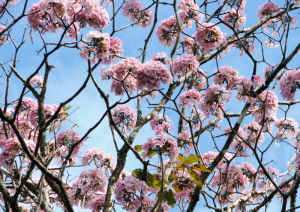 You'll see the impossibly electric yellow blossoms of the Corteza Amarilla or Tabebuia ochracea tree. During its bloom, the leaves fall and only flowers remain. When the sun hits these golden crowns, you almost need sunglasses for the glow!
The Tabebuia rosea, known locally as Roble Sabana, and also called rosy trumpet tree, explodes with blushing pink bouquets as magnificent as any cherry tree.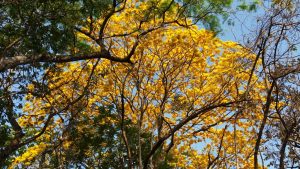 And it's hard to miss the fiery orange flowers of blooming Poró Gigante or Erythrina poeppigiana trees. These large trees are commonly planted in coffee fields for shade.
When traveling around Costa Rica in dry season, enjoy these cheery displays of spring. But be quick with your photos – blossoms only last a few days before carpeting the ground with color. The saving grace is that trees may blossom two or three times during the season.
For more real estate for this region at the WeLoveCostaRica Atenas listings page, click here
Are you into beautiful Costa Rica?
All interesting things you want to know about Costa Rica are right here in our newsletter! Enter your email and press "subscribe" button.