Costa Rica Timeshare Rentals and Resales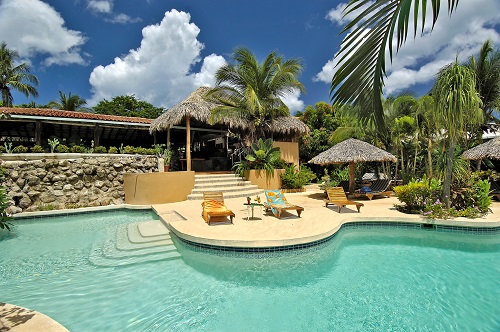 Costa Rica timeshares offer a lavish, yet affordable way to vacation in this tropical paradise. With added accommodation amenities and plenty of fantastic resort features, Costa Rica timeshares can't be beat. Most of these properties can be found in Guanacaste, an area known for its breathtaking beaches and unspoilt parklands. The most cost-efficient way to buy or rent a Costa Rica timeshare is to go through the secondary markets on websites like SellMyTimeshareNow.com.
Costa Rica Timeshare Rentals
For a one-time, low-cost vacation option, Costa Rica timeshare rentals offer the perfect solution. These rental units are made available by owners who are unable to visit their timeshare on the given year. In return, they advertise their units at a low weekly rate. Even if you don't end up staying the whole week, you'll still likely come out on top in comparison to the price of area hotels. Not to mention the added value of timeshare amenities that will make you feel right at home on your vacation, with plenty of room for everyone to spread out and relax. Additionally, Costa Rica timeshare rentals are a great way to try before you buy if you're not ready to commit to ownership just yet!
Costa Rica Timeshare Resales
Owning a Costa Rica timeshare has many benefits. For one, it is a cost-efficient way to indulge in luxurious, annual vacations. When you buy on the secondary market, you can save upwards of 70% off resort pricing while also skipping the high-pressure sales pitch by shopping from your own home. Websites like SellMyTimeshareNow.com are also able to refer you to reliable brokers and closing companies for the smoothest possible transaction from start to finish.
Typical Amenities in Costa Rica Timeshares
Timeshares make exceptional vacation accommodations because they are chock-full of great features and amenities to make your vacation great. While amenities vary by suite size and resort, properties like Condovac La Costa offer units equipped with full kitchens, living rooms, whirlpool tubs, dining rooms, and private terraces.
Costa Rica timeshare resorts also offer on-site services and activities to enhance your stay. Popular Costa Rica resort, the Villas Sol Hotel and Beach Resort offers a full-service spa, all-inclusive dining options with on-site restaurants, watersports, swimming pools, jacuzzi tubs, and complimentary Wi-Fi. A timeshare vacation gives you a full vacation experience without ever having to leave the property!
Find the perfect Costa Rica timeshare resale or rental that fits your vacation needs and budget by browsing the impressive selection on SellMyTimeshareNow.com.
Are you into beautiful Costa Rica?
All interesting things you want to know about Costa Rica are right here in our newsletter! Enter your email and press "subscribe" button.