Costa Rica Real Estate: A 'Real' Experience
Many consider retiring in Costa Rica because of its large community of ex-pats, its favorable weather, and the fact that it is only a 2.5 hour flight from Miami. The cost of living depends widely on what standards you have to be comfortable: If you choose to live further away from the main hub of San Jose, you can get by on a little less.
[custom_script adID=149]
Why Should You Consider Buying Costa Rican Real Estate?
For what is considered a comfortable lifestyle in Costa Rica, it can take anywhere from $1500 to $3000 a month to live comfortably, and this is in most cases away from San Jose. The way of life is very laid back compared to many large cities in the states, and there are many benefits to buying property in the country. There is a very modern capital city, fairly reliable utilities, beautiful rain forests, and beach towns that offer tons of fun and culture.
Many locals here do speak English, and the nation as a whole is considered relatively safe. Investors actually pay no capital gains taxes on real estate, and high-interest bank accounts are completely tax free. If you do choose the Central Valley Region, you will likely not need Air Conditioning OR heat, and this will no doubt provide savings.
Since 2002, it has been possible to begin the immigration process in your country of origin, and the process is relatively easy compared to other Latin American nations. If you do gain residency or citizenship in Costa Rica, your U.S. Or Canadian citizenship is not at all affected; since 1996 you can possess dual citizenship here.
Various Properties in Costa Rica
Here in Costa Rica, you can locate a satisfactory home that will have room for relatives or children to come visit, and single-family homes run about as much as they do in the Midwestern United States. If you do opt for beachfront property you are going to pay more, but there are some available that are 4 bedrooms for just around $299,000.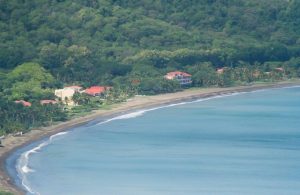 Even in locations such as Playa Lagartillo which is very scenic and by the ocean, you can acquire a house for around $330,000, which is much lower than what you would expect to pay in a prime U.S. Location such as San Diego. There are even some recently built homes in gated community areas that go for as little as $98,000, and they are simple but still incredibly quaint, and more than livable. Playa Hermosa has some very large and luxurious dwellings for around $600,000, and these are upper-end properties that would be priced at double or triple in cities such as Miami in the U.S.
[custom_script adID=155]
Different Types of Condos in Costa Rica
Condominiums in Costa Rica are ideal for those that want to experience everything awesome that the area has to offer, but may not want to take care of lawn maintenance, other grounds-keeping, and security issues. In cities such as Escazu, you can locate a condo for around $250,000, and these are very modern facilities. When you get to renting instead of purchasing, you can find a condo in Guachipelin Escazu for around $1,600 a month: this is a location that has its own supermarket and pharmacy, which is a prime attraction in Costa Rica.

Even in very hot U.S. Markets such as Denver, Colorado, condominiums cost more than this, and you will be waking up every day in a palm-laden paradise that you will love. In the awesome winter escape of Playa Flamingo, you can score a 2 bedroom, 2 bathroom condominium for $199,000, complete with ocean view balcony overlooking Portero Bay.
We know that if you happen to have children you may want more space, but taking the condominium route gives you a prime location for less price, and you still have many urban amenities right at your fingertips. There are high rises available in such attractive cities as San Jose for only 185,000, which is a steal for a high rise that has a fully equipped gym and pool.
Is it Easy to Acquire Beachfront Property in Costa Rica?
Some of the cities that folks want to acquire land and property in are areas such as Playa Flamingo, Las Catalinas, Vista Mar, and Jaco. Almost all of the beachfront property falls is retained and controlled by the Costa Rican Government, and is commonly referred to as "concession land". The first 50 meters of any of these properties is public, and no construction is permitted; the second 150 meters is government-owned land, and you can only develop extensively under restrictions that are granted through concession.
In Playa Del Flamingo, many properties are in the luxury category. When you browse what is currently for sale, you see high-end properties with ocean and sunset views, infinity pools, and living in the most modern and secure gated communities. Guest suites, abundant air conditioning, and ocean views of Domincalito cove are all available.
In other popular beach areas such as Los Suenos, you can get a beautifully decorated Veranda condo for around $459,000. But this is and other areas such as Jaco Beach are great for those who want to spend the rest of their days by the ocean, and you can get a sunset condo with amenities for around $325,000 here. Even though it takes a substantial amount of capital to own a home here, these prices are comparable to areas of the U.S. That are like Kansas City or Minneapolis, where the weather pattern is much less favorable, and you have to deal with ice and snow.
What are the benefits of living in a Costa Rica Marina?
As many who are planning to call this their home know, "Something exciting is happening in Costa Rica". There are marinas such as Crocodile Bay that provide concierge and porter service, 24-hour security, dry storage, and slips where you can store your favorite schooner with an "S.S" title.
Seeing the cove from your deck, having abundant opportunities for activities such as fishing and snorkeling, and the peace of an inlet sunset are all reasons why people love the marina life. There are even areas that are under construction now such as Isla Moin that are surrounded by 8200 ft of beachfront and developed on 208 acres, with over 500 full-service marina slips that can even accommodate yachts and mega-yachts.
Other communities such as Lake Arenal in Costa Rica boast a growing presence of folks who have left their own nation, and natives who are in love with the weather, landscape, volcanoes and relaxed lifestyle. The area offers chic restaurants, bars, many shops, clinics, varied real estate investments, and a primo place to live. Imagine waking up in the morning to the serenity of water that resembles a lagoon, with your own sail or motor boat ready to go.
The Benefits of Gated Communities in Costa Rica
Whether it's a high-level rise building or a location where a convoy meets the city, a gated community not only provides you with a bit of a sense of security, it also makes you have the most ultimate of kinship with the neighbors around you. From Mediterranean-styled homes in Santa Ana to contemporary-styled homes in Escazu, properties in gated communities do begin at around $300,000, and go all the way up to around $900,000 when you are getting the square footage of a mansion.
One of the best deals we saw while surfing the web was in the Papagayo region of Guanacaste: a one-bedroom condo unit for only $200,000. Here you can walk from a gated community to restaurants, grocery stores, bars, and ample night life. A very important feature of gated communities is their proximity to grocery stores: many places in Costa Rica require quite a long drive or bus ride to get food, and gated communities are located near areas where you can easily acquire these goods.
[custom_script adID=151]
The Plentiful Options for Golf in Costa Rica
This is one of the prime reasons that so many who are coming from the states are choosing to relocate here: the overabundance of opportunities for 18-hole and fairway-laden goodness. From the Four Seasons Resort Costa Rica at Peninsula Papagayo to the Costa Rica Country Club, there are many locations here to practice your swing that leave you swinging within a setting of pure paradise.
The Los Suenos Marriott Ocean and Golf Resort is recognized by Travel & Leisure Magazine as one of the "World's Best Hotels For Families", and is nestled right between the waters of the Pacific, and a 1,100 acre tropical rain forest. This area features the La Iguana Golf Course, with 18 championship holes, and a truly tropical vibe. Golf is one of the ways that someone who has worked very hard their entire life can truly unwind and relax, and Costa Rica is definitely one place that offers the very best in the essence of what the sport of golf possesses.
Available Rental Homes in Costa Rica
The Central Valley is one of the most popular places in the nation to rent, because of the breezes that keep things drastically cooler night and day. $1,400 a month can get you a very modern rental that evokes the upper-end of luxury, and when you get to the beach areas, you may want to be prepared to spend $1,500 or so per week. Pristine sandy beaches and very breathtaking ocean views and sunsets are what you can expect for this price, and many have claimed that living in something such as this is more than worth it.
In cities like Escazu, there are quaint apartments for rent for as low as $1,200 a month: They may seem a little bare-bones to some, but you still have communal pool and BBQ areas, a beautiful view, and the very important 24 hrs security. In Santa Ana there are bargains such as a furnished 1 bed + den/2 baths/ 2 parking stalls for just $1400 a month, complete with lush gardens right outside the unit. Opportunities such as these are perfect for those who are wanting to check Costa Rica out, to see if purchasing a permanent home may be in the cards for the future.
Mansion/Luxury Properties Available in Costa Rica
Having land to build or a luxury property in Costa Rica is for many an absolute dream come true. We saw one plot on the web near Puntarenas, Costa Rica that has space for an entire development for around $14,000,000, and would be worth every penny to acquire and construct a dream on it.
There are very stunning beachfront estates in places such as Santa Cruz, Guanacaste, Costa Rica for around $5,000,000, and they are truly amazing things to behold. Large kitchens with multiple islands, bedrooms that are fit for a king, and private pools and sprawling gardens are just some of the things you'll enjoy with a luxury property here in Costa Rica.
Some of the most beautiful properties that can be found are treasures like a Mountain Top Mansion in San Jose: around $5,000,000 gets you amazing views of the Central Valley, 7 bedrooms and 5 baths, a service bedroom, and a 5-car garage. For the huge wedding or party you may have planned, an extra 40 cars can even be parked around the 400+ SQ. meters surrounding the premises. Luxury living in Costa Rica will feel like living in a dream: every day you will wake up to favorable weather, fresh fruits from the marketplace, and enjoying a locale with your loved ones that is absolutely divine.
Need Help Finding Real Estate in Costa Rica? Fill this out and let us help you!
Are you interested in this property?
Please fill out the form below and we will contact you.
Are you into beautiful Costa Rica?
All interesting things you want to know about Costa Rica are right here in our newsletter! Enter your email and press "subscribe" button.