Amazing Oceanview Homes For Sale Jaco Beach Costa Rica From US$299,000
Let's be clear, Jaco Beach is one of the most unique places in Costa Rica, where you can own FEE SIMPLE TITLED beachfront property.
I'm talking right on the sand beachfront people! Not many of those opportunities in Costa Rica exist.
Add, the fact that Jaco is one of the few places where building higher than 3 floors is permitted, and what you come up with are some of the most stunning oceanviews in the country.
You might see pictures of other listings that have expansive oceanviews from the mountain tops, but in Jaco you get to eat your cake and have it too, enjoying the oceanviews along with the fresh ocean breezes, while going to bed to the sound of the waves crashing.
AND if you want to actually touch the sand, take a quick dip in the ocean, do a little surfing, well then you don't have to worry about getting in your car and driving down from that high mountain top, you literally walk out and are just steps away.
Oceanview, beachfront, Costa Rica, don't see how it gets any better.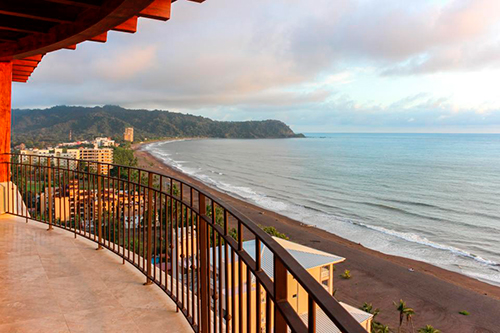 So if you are looking at enjoying stunning ocean views from your property in Costa Rica I encourage you to contact me to go over some excellent options currently, some as low as US$299,000 for a furnished 2 bedroom condo.
Article ID Number 9132
[custom_script adID=165]
Are you into beautiful Costa Rica?
All interesting things you want to know about Costa Rica are right here in our newsletter! Enter your email and press "subscribe" button.