25 Top Incredibly Talented Wedding Photographers in Costa Rica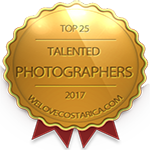 Are you planning a wedding in the gorgeous scenery of Costa Rica?
Costa Rica is one of the top 3 destination wedding sites because of its stunning beauty, dreamy tropical beaches, modern amenities, and friendly people.
Photos of your special day are priceless because they'll bring back memories of your special day years later. Your photos will be passed on through generations, so you definitely want the most talented and professional photographers to capture your most precious moments.
These 25 wedding photographers are extremely talented and experienced, and each one can create incredible wedding photos that you will be proud to share for years to come.
Lindsay & Andres are the talented team at Arenas Foto Wedding Photography. They tell love stories, from the big to the small moments, to the ones in between in timeless photos you and your family will cherish for years, and provide an exceptional personalized experience that is as memorable the photos.

Andres and his wife, Marisol, work together to create some of the most stunning wedding photos anywhere. They have plenty of experience, and they capture pictures of your whole day, from the preparations to the ceremony to the reception, and more.   They are based in the capital, San Jose.

El Velo Photography has 7 professionally-trained photographers that have photographed more than 4500 weddings all over Costa Rica. They've been creating phenomenal memories for brides and grooms for over 18 years. They are professional videographers, as well.

April and Brandon Visel are a compassionate and talented team. They create wonderfully creative shots of your wedding day with both photography and videography skills. They've been shooting weddings for many years, and they are very compassionate and detail-oriented.  Originally from California, they are based in Tamarindo on the Pacific side of Costa Rica.

Rodolfo Walsh is the genius creative director at Walsh Wedding Stories. With degrees in Biology and Photojournalism, he has exhibited his impressive photos all over the world. He and his team have photographed over 1000 weddings in over 34 countries. They are skilled videographers, as well.

Maciej Bogusz is the professionally-trained photographer who created Papaya Wedding. Raised in Poland, he relocated to Costa Rica in 2016. He has over 10 years of experience photographing weddings both in Europe and Central America.

7.      Crissorama
Christopher Alpízar Gaviria is a professional photographer who takes stunning photos of weddings all over Costa Rica. He has 9 years of experience, and is also a trained graphic designer. His photos are more than just photos. They are a creative compilation that magnificently tells the story of your special day.

Mariana and Raquel are the team behind Sharing Life Photography. They have professional degrees in Photography, Design, and Business Administration. They've been photographing weddings for over 6 years, and their intense passion shows through in their stunning photos.

Laura Tencio and Luisa Martinez are the creative team behind Aquamarine Photography. Based in Puntarenas, they are professional photographers with 8 years of experience working in Columbia, Mexico, and Costa Rica. They create phenomenally stunning images that you'll treasure for years to come. Each wedding is personalized to fit your needs, and their service is second to none.

Costa Vida Photography is an award-winning wedding photography service based in Puntarenas. They capture weddings on film all over Costa Rica, and they have over 15 years of experience. They are talented and passionate, and they produce amazing photos.

11.  Bidrop Images
Toh Gouttenoire created Bidrop Images 13 years ago. Their creative photographers capture weddings using photography and videography. Their state-of-the-art equipment and total commitment to their clients is what sets them apart from the rest.

Oriana is an amazingly talented photographer who splits her time between Chicago and her second home, Nosara, Costa Rica. Oriana does an incredible job of capturing all those special moments on your wedding day.

13.  Alda Studios
Dani Alda is a skilled wedding photographer based in San Jose. His photos are captivating, and they truly capture the emotions of your special day.  He has a long history of satisfied clients.

14.  Sylvia Guardia
Sylvia Guardia is based in Guanacaste and has been photographing weddings for more than 9 years.  She is friendly, passionate, and an incredible photographer. When she's not photographing weddings, she's busy traveling and being a wife and mother.

15.  Stories Wedding Photography
Stories Wedding Photography has been creating exquisite wedding photos all over Costa Rica for many years. Their award-winning photography has captivated the hearts and minds of their clients, leaving them with precious memories to cherish for years to come.

16.  Javier Mendez
Javier Mendez is a very talented and experienced wedding photographer who photographs more than 50 weddings every year. He really gets to know you and personalizes your wedding shots according to your needs and wants.

Jesse Canaan Greene is the genius behind J. Canaan Creative, which is based in Puntarenas. Their cutting-edge creativity is personalized to your desires, creating photos and video that will help tell the romantic story of love and partnership that is uniquely yours and your partner's.

Natalia and Emanuel are the talented photographers at White Diamond Photo. They go out of their way to make sure your wedding is extra special and that your photos will be absolutely stunning.

19.  Graham Swindell
Graham Swindell is an agency based in Nosara, and they have 3 talented photographers on staff. They have been photographing weddings for more than 10 years, and you will be more than elated with their professionalism and skills.

Karla Codero is a professional photographer with a degree in photography. She has been photographing weddings for over 7 years. She is constantly improving her skills and updating her training to ensure that her photos are absolutely breathtaking. She is a member of several professional photography organizations, all of which require high standards for admission.
Jorge Lopez is an incredibly talented photographer based in Tamarindo, although he travels all over. He offers a complete set of astonishingly beautiful wedding photos at an affordable price.
Madi Baltodano is a professional photographer based in Manuel Antonio, Costa Rica, although she's originally from New York. She also graduated Summa Cum Laude in Business Administration from Northwestern University. Her passion and talent shines through in her photos, and she has created hundreds of phenomenal wedding memories.

Genna Marie Robustelli is a talented photographer based in Tamarindo. She takes family photos as well as wedding photos. She specializes in small and medium-sized weddings, and she can help organize anything you need while in Costa Rica. She has hundreds of happy clients who rave about her photography skills.

Kevin Heslin is a creative and talented photographer whose work has been featured in many international publications. He is based in Manuel Antonio and has been shooting weddings for over 12 years. His is licensed and insured by the Costa Rica government agencies. His talent, experience, and passion definitely shine through in his photos.

25.  Raw Shoots Photo
Rob Durán and Lori Fernández are very talented wedding photographers based in San Jose. Their wedding pictures capture the raw emotion of your special day. They love capturing natural shots. They marry talent and creativity to create stunning photos that you'll be proud of for many years.
In Conclusion
Getting married in Costa Rica provides some of the most gorgeous scenery anywhere, from tropical beaches to lush forests.  These photographers are experienced and talented, and they will capture your wedding with breathtakingly stunning photos and videos.
Are you into beautiful Costa Rica?
All interesting things you want to know about Costa Rica are right here in our newsletter! Enter your email and press "subscribe" button.