Recommended Bilingual Costa Rica Realtor in Santa Ana and Escazu Andres Henfling. With free video.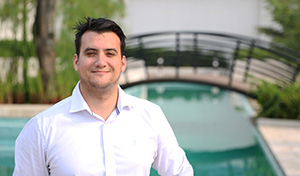 Andres Henfling Salazar was born and raised in Costa Rica. He is a dual citizen of Costa Rica and the Netherlands and has lived most of his life in Escazu, Costa Rica.
Andres has grown up with real estate contracts, lease agreements, option to purchase agreements, sale agreements, condominium by-laws and everything else that is involved with real estate transactions because his father, Ivo Henfling, has been a real estate broker in Costa Rica for over 25 years and is the founder of a large Costa Rica real estate brokerage firm.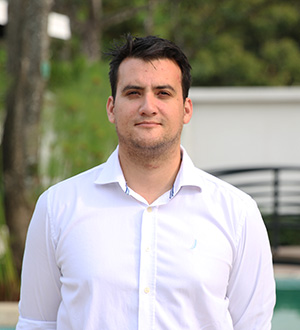 Andres has been professionally involved in the real estate field since 2008 and has been working as a professional real estate sales agent since 2014.
Few real estate agents in Costa Rica know how to interpret the reports generated by the National Registry where all the real estate data can be found, even fewer people understand property surveys and easements.
Not only does Andres understand most of the technical aspects of Costa Rica real estate, he also appreciates the fact that good communications and customer service are extremely important for a successful real estate agent and I have no doubt that you will agree with me when you meet him.
If you are considering buying Costa Rica real estate in the areas west of San José — Escazu, Santa Ana and Ciudad Colon – you will discover that not only does Andres have the necessary knowledge about the local real estate market, he knows all that is necessary to help you find the most suitable home.
Even after the sale has been made and long after the commission cheques have been cashed, Andres works closely with his clients, helping them to change the names of the utility services, buying furniture, help with renovations, making changes to the National Registry, communicating with the local municipalities, with construction permitting and zoning etc.
Watch Our Short Video With Recommended Realtor Andrés Henfling in Escazú & Santa Ana
What would you say are the unique benefits of living in the Santa Ana area?

"Lifestyle, perfect weather, new entertainment choices every year, new quality service choices every year (groceries, schools, banks, shopping in general), golf course, security and less than one hour from the nearest beaches."

Where do land prices stand now in your area in comparison with this time last year?

"I would suggest that prices are probably at about the same price point. Lots in condominiums of less than 300m2 are selling for $400 to $500m2. 600m2 lots are selling for $275 to $350m2."

Where do finished home/condo prices stand now in your area in comparison with this time last year?

"My educated guess is that new construction homes are being sold for 10% more than they were a year ago while resales are selling for 10% less."

What sort of real estate product is currently available in your area?

"Apartments from $120,000 to $350,000, townhouses from $150,000 to $425,000, single homes in gated communities from $350,000 and lots in gated communities from $120,000 to $350,000."
What are you lacking?

"Lots in gated communities below $150,000."

Is there an oversupply of any particular product?

"There are quite a few condos on the market."

If you were a real estate investor looking to build and sell, what would you build?

"The sweet spot right now are townhouses from $150,000 to $250,000. I could sell a lot more of these if they were available."

Where are the best – already completed – opportunities right now in your area?

"Any lot in quality condominiums below $150,000."

Could you please share with us why this is a great place to raise children?

"Our area is very safe, we are surrounded by amazing nature only minutes away from home and although there's still a small town spirit here, it's very much a multicultural area but with a warm Latin ambience.

There are some great schools in our area so parents can easily find a suitable school for their young children."
Why should someone consider buying real estate in the Santa Ana areas right now?

"I see nothing but a a brilliant future for Santa Ana and believe that the best time to buy is now. In the next couple of years we will see them finish widening the road in Lindora, the new Santa Ana Country Club, the new PriceSmart, the second phase of City Place and the new Clinica Biblica private hospital will be finished and we expect prices to rise significantly."

What makes you uniquely qualified to help your customers?

"I really do listen to clients and try to clarify exactly what they are looking for… In every transaction, I put myself in my customer's shoes, to try and imagine what my clients are concerned about at every step so they are comfortable and knowledgeable about everything we do.
Costa Rica Realtor Andres HenflingCustomer Testimonials
Received: Tue, Nov 1, 2016 at 2:08 PM
"Hi Scott, I have several properties in the central valley both residential and commercial and Andres Henfling has helped me often both in listing property for sale, bringing qualified buyers and renters for showings and has also helped to structure leases for my commercial property he has brought tenants to.
He has also helped to stage property for showing and generate professional promotional material to assist me with my business. I give Andres my highest recommendation for his service in helping me sell, list and maintain my properties." Sincerely, Michael Murphy.
***************************************
Received: Wed, Nov 2, 2016 at 11:57 AM
"Hi Scott, Very much willing to help Andres:
Andres Henfling has been involved in a super smooth transition of property. He very professionally guided us making sure that all due diligence had been carried out properly. His bilingual abilities (fluent both in Spanish and English) contributed much to perfect communication between all parties involved.
Most of all: I still have not discovered the limits of his efforts in after sales!! Very rare indeed. And very important in case there are any unexpected loose ends.
In a particular case he insisted helping me out to bring back by his car a cabinet that did not meet my expectations (months after the closing) to the furniture shop, when I was not in a position to do this due to illness.
This of course had no relation whatsoever to his job as a Realtor. He just does not rest until the client has a good experience living in Costa Rica. Also he had been involved in some refurbishment, to my satisfaction. And Andres turned out to be very trustworthy, amiable and honest." Justus Kramer Schippers
***************************************
Are You Searching For Quality Homes, Apartments and Land For Sale in Escazu and Santa Ana?
[custom_script adID=196]
Are you into beautiful Costa Rica?
All interesting things you want to know about Costa Rica are right here in our newsletter! Enter your email and press "subscribe" button.